Where there are dogs in need, Hope For Paws comes to help!
This Los Angeles-based, non-profit rescue organization has saved countless lives since their founding back in 2008. We owe gratitude to Eldad and Audrey, as well as their group of brave rescuers and animal rights activists.
If it wasn't for people like them, many dogs would still be suffering, living on the streets, and struggling to see yet another day.
Many dogs wouldn't be able to get a second chance just because they're strays, seniors, or of a specific breed.
One of those unlucky dogs was Kisses – a senior Pittie living right next to a dumpster, hoping she'd score some food that way.
Needless to say that Kisses wasn't really adored and kissed by hoomans.
Needless to say that her life was approaching the point of being unbearable.
But, when you feel like you can't push further anymore, luck smiles upon you and shows you that not everything is lost.
Fortune finally kissed Kisses and showed her the brighter side of life.
That Trashy Life Exchanged For A Better One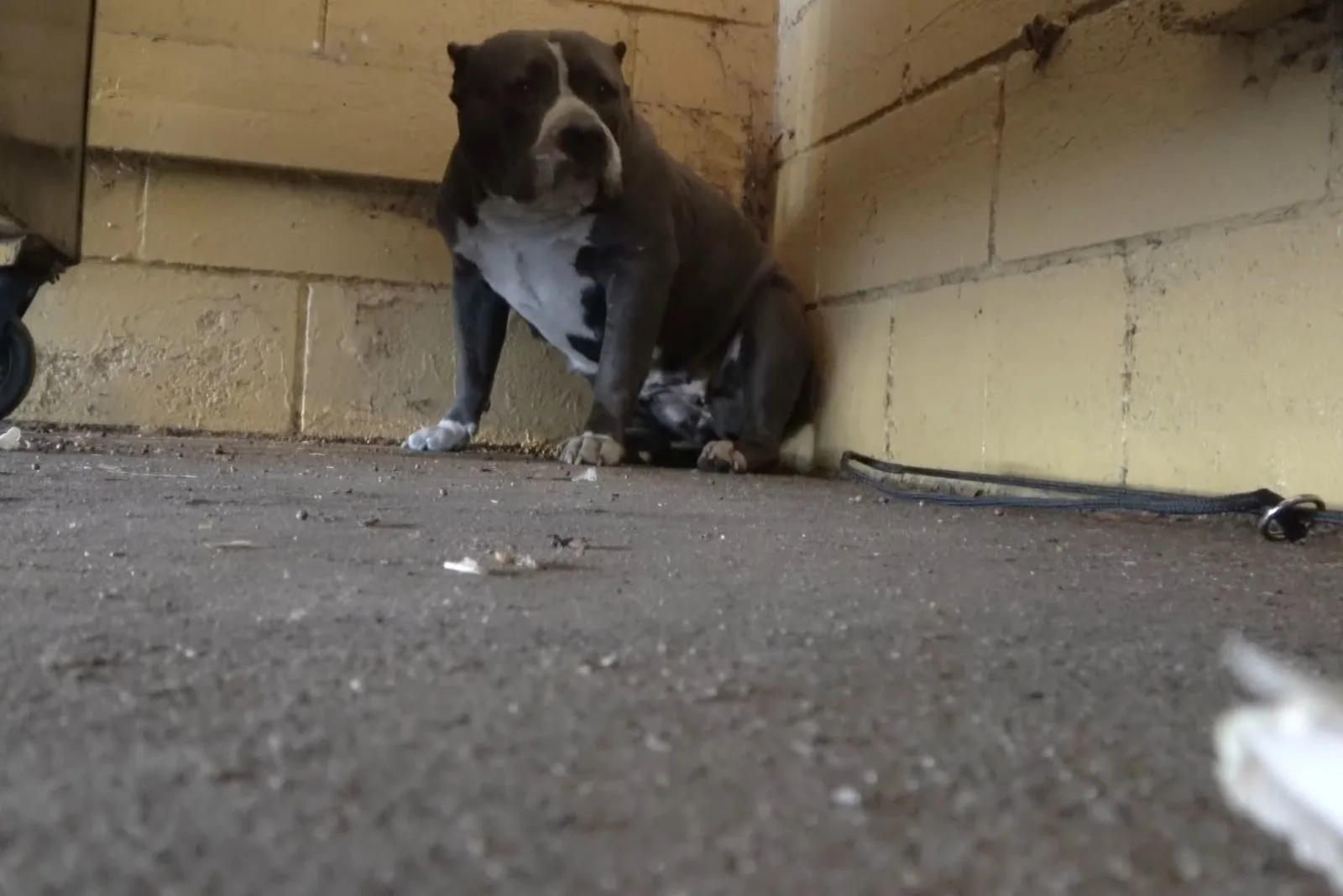 Kisses thought she had made a smart decision. Living on the streets is already ruff enough, so why not try to live near a fast food restaurant? There's gotta be some food leftovers lying around for her.
However, a life next to a dumpster isn't really the kind of life any dog needs, not to mention a senior. Kisses didn't know better, but we know someone who did.
When they received an email about a dog living next to a fast food restaurant dumpster in downtown Los Angeles, JoAnn and Alex, from Hope For Paws, rushed to the scene.
And, they got there just in time.
As soon as they spotted the dog and tried to approach her, a trash truck came by to empty the dumpsters. There was no time to dwell. Kisses ran into the dumpster shed and hid. Something had to be done fast so the workers could do their job and empty the dumpster.
If Kisses didn't leave her hiding place, she might have gotten hurt.
JoAnn squeezed herself inside the shed and found Kisses hiding in a corner. She was clearly afraid, but JoAnn could tell it from her eyes that she was really happy someone paid attention to her.
When JoAnn brought out treats and started tossing them at Kisses, she started wagging her tail, super excited to eat anything other than fast food scraps.
An incredible breakthrough happened when JoAnn came very close to Kisses. She gave her food and Kisses took it straight from JoAnn's hand. Within just a few short minutes, JoAnn was able to put a leash on Kisses.
But, then the workers took one of the dumpsters and Kisses got scared by all that noise. She ran and hid behind the other one. Fortunately, she still had the leash on.
Both Alex and JoAnn somehow managed to persuade the poor, scared Pittie girl to follow them.
She was finally ready to exit that horrible hiding place.
Still, the most amazing thing happened near the girls' parked car:
Kisses flopped belly-side up and asked them for much-needed belly rubs.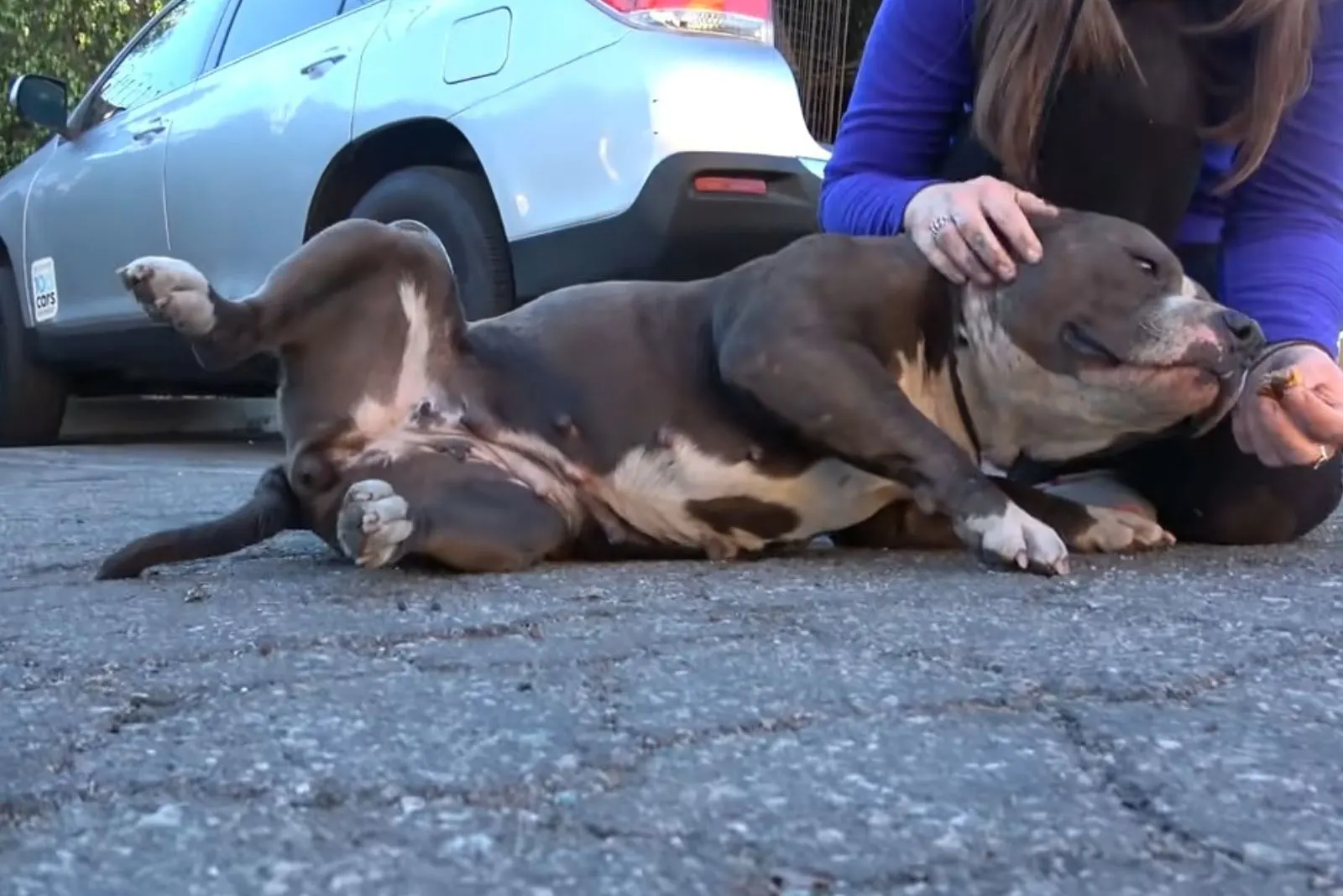 And, she even gave JoAnn the sweetest little kiss! That's what marked her new beginning: the sweet kiss that she got named after – Kisses.
What Now, Kisses?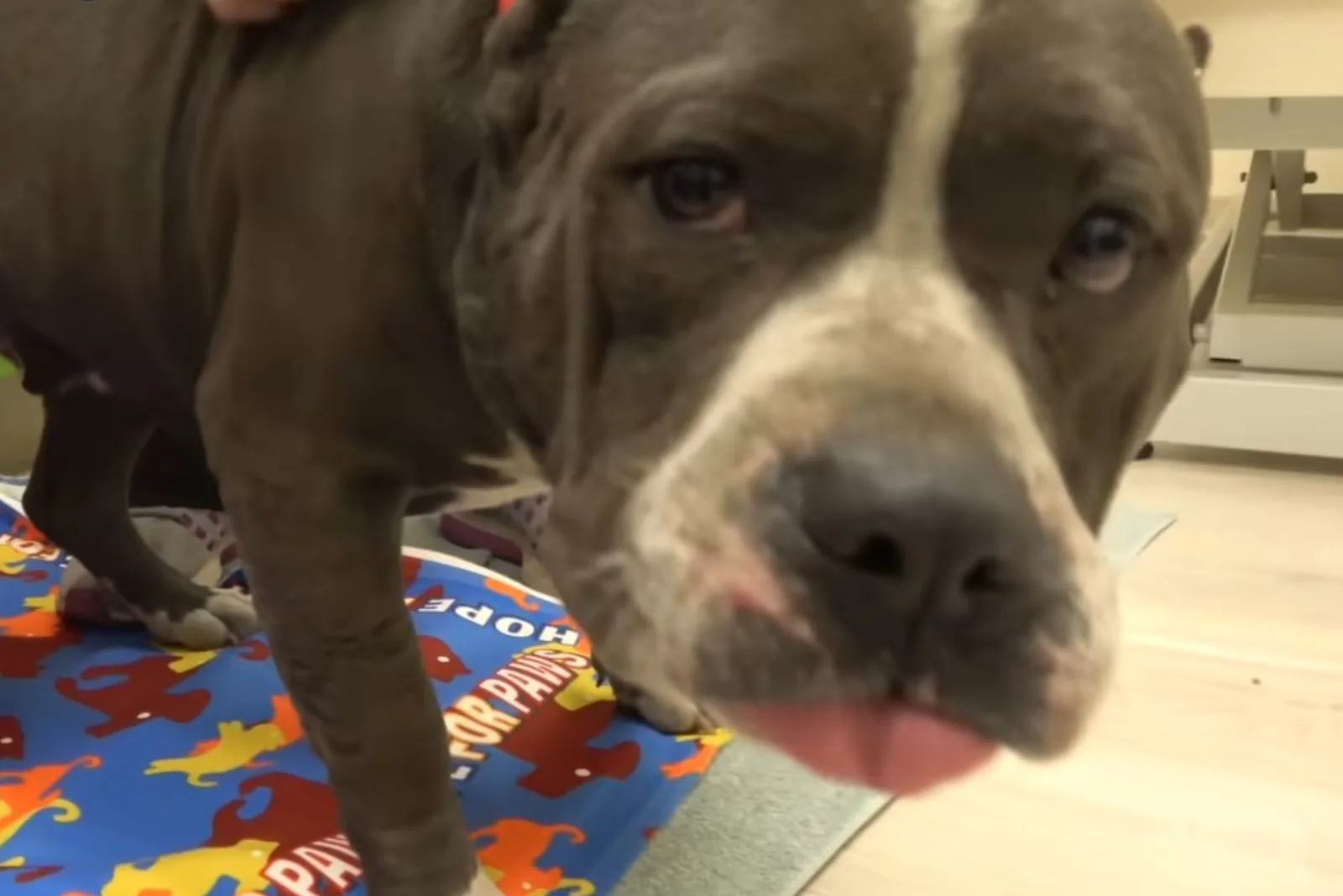 When the girls brought Kisses back to the shelter, she was still afraid because she was facing something new. However, the tail that was stuck between her legs was wagging constantly. Everyone could tell she had the loveliest personality.
Kisses just needed to open up.
And, she needed something else, too!
A nice, warm bath.
When JoAnn and Alex first petted Kisses, their palms were almost black. That's how dirty poor Kisses was!
Finally, the white patches of Kisses' coat were turning… white!
She loved the bath very much, and even gave Alex more kisses.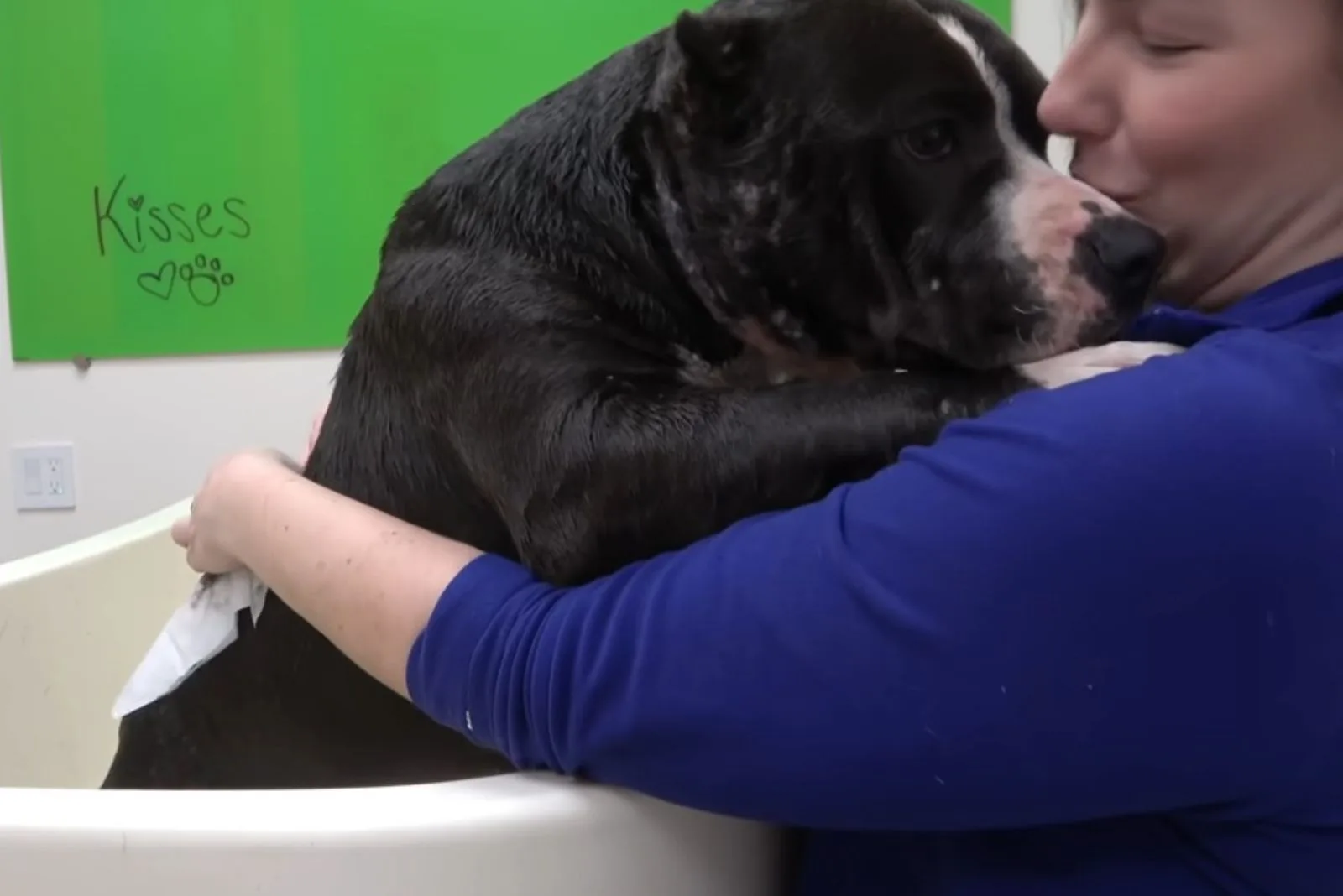 The kindest Pittie girl ever was immediately introduced to other dogs. She turned out to be the ideal newcomer – super excited about meeting new friends, and eager to show everyone how grateful she felt for being there.
Kisses showered everyone with kisses.
Since this lucky girl needed only a bit of love and care, she was placed into a foster home shortly upon arriving at Hope For Paws. Another well-known rescue organization from San Diego, California, It's The Pits Dog Rescue, welcomed Kisses.
Her life with a foster family didn't last for long. It actually turned into a real life because her foster family decided to officially adopt Kisses!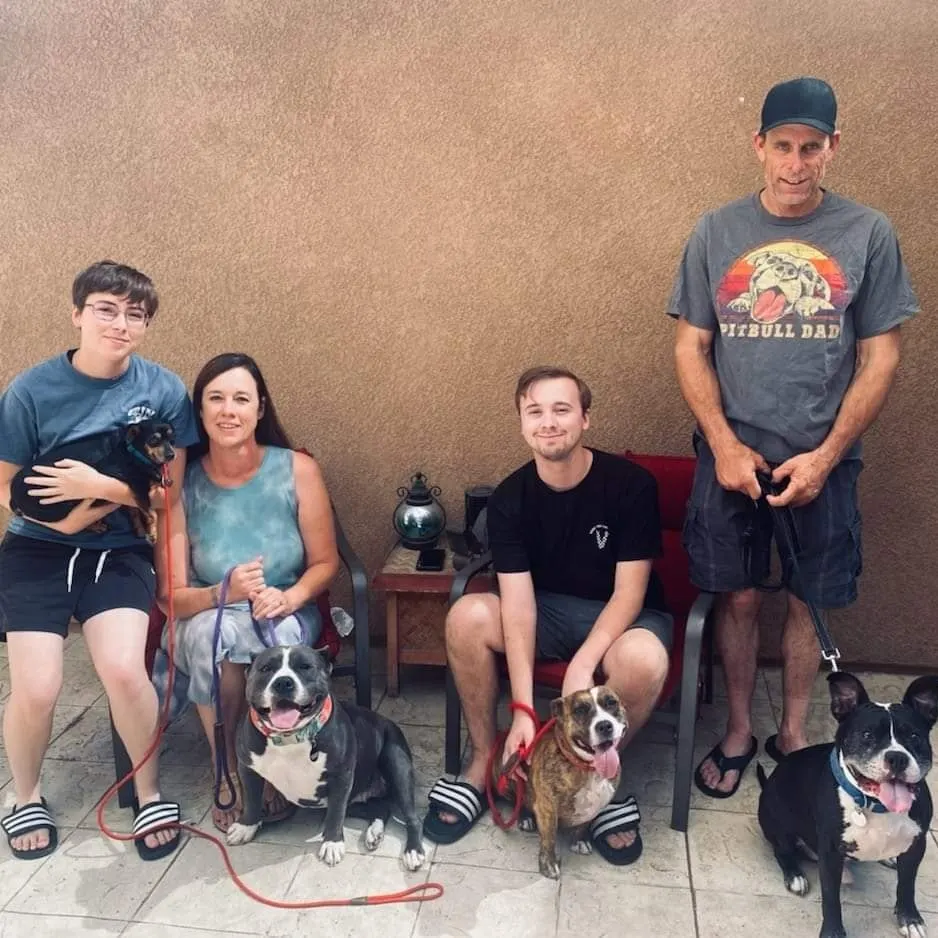 The once abandoned Pitbull girl, living off fast food scraps, now got two hooman pawrents, two hooman siblings, and three fur friends.
Kisses now enjoys the warmth of her new home and doesn't want to go to fast food restaurants, not even for a family outing.
Organizations like Hope For Paws and It's The Pits Dog Rescue both rely on donations from kind people. Without help from the outside, saving dogs wouldn't be possible. If you can spare a few dollars, it would be super nice to donate to them.
Better to give $5 for dogs in need than to spend it on a cup of coffee.