Dogs are our best friends in the world, but sometimes it feels like we don't deserve them. Remember Snoop? His abandonment story went viral several years ago when his owner dumped him on the side of the road in England.
Snoop was lying in his bed that his owner threw out with him when a random passenger noticed him, picked him up, and took him to a shelter.
Once a happy boy, Snoop was depressed for months. He was in a mourning period, expecting his man to pick him up any day. Unfortunately, that never happened, but the dog got the best owner possible the next year… Here's the full story!
Snoop Was Abandoned By His Owner On The Road
In 2018, a man threw his dog out of his car in Stoke-on-Trent on the roadside. Snoop, the Staffordshire Bull Terrier, went out of the car wagging his tail, not knowing what was about to happen.
The man took his dog bed out, put it on the side of the road, and ran back to the car. Snoop begged his owner to let him back in, but he recklessly drove away and abandoned this beautiful dog for good.
The dog went back to his dog bed and layed in it, waiting for his owner to pick him up. A couple of hours later, a random passenger drove by, noticing Snoop sleeping in his bed. He immediately reacted, picked up Snoop, and took him to a local shelter…
The whole story went viral when the RSPCA (Royal Society for the Prevention of Cruelty to Animals) team told this story on air.
He Was Desperately Looking For A Forever Buddy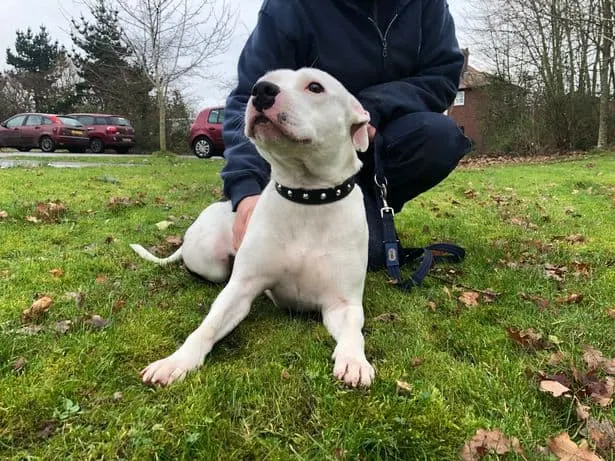 According to the RSPCA team, Snoop was a beautifully-mannered dog that desperately needed a new home. After recovering from losing his owner, Snoop slowly got back on his feet and started adapting to a new environment.
Unfortunately, the rescue couldn't provide a new home for this Staffie right away… he needed to wait a little bit longer for his furever family.
But then, something amazing happened…
Video Went Viral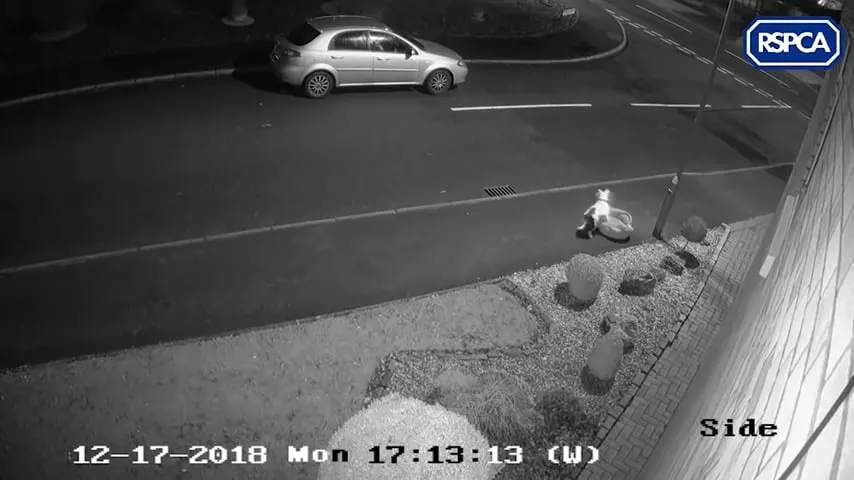 After telling Snoop's story on air, the RSPCA team got thousands of inquiries about Snoop. His story was truly heartbreaking and it touched the heart of millions.
Many people were interested to know more about Snoop and his situation, but there were ones who wanted to provide a new home for him, too!
All of a sudden, this boy was wanted by many families, and the RSPCA team was having sweet torment…
Laurence Was The Lucky One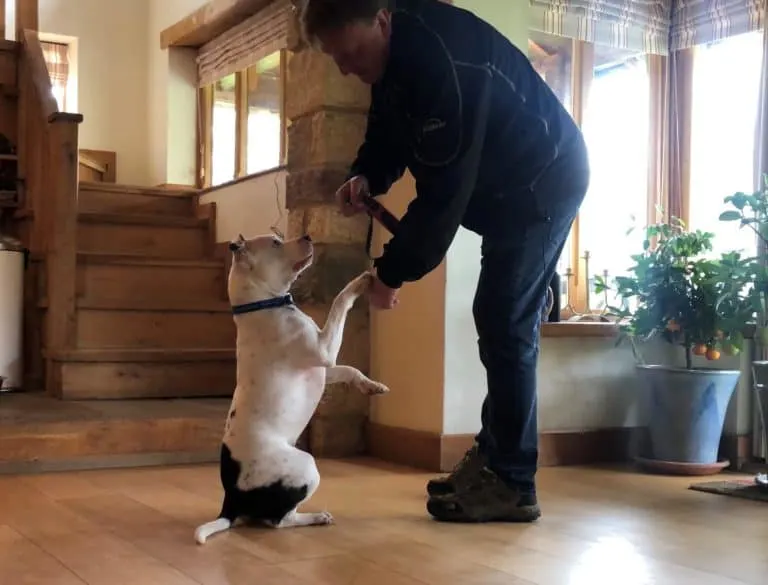 After careful consideration of all applicants, it was decided that Laurence Squire, from rural Hertfordshire, was the perfect candidate!
He saw the Snoop story on the news and was devastated. He immediately decided to apply for this dog and provide him a safe forever home.
After a thorough application process, the RSPCA team decided that Laurence was indeed the perfect match for this white Staffy.
He had a spacious home and a big yard where Snoop could exercise all of his potential, and Laurence already worked from home, so Snoop wouldn't need to deal with separation anxiety ever again.
Snoop – The Smiley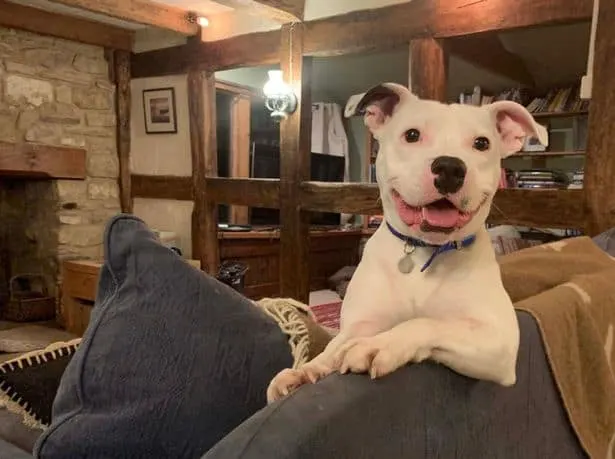 Today, Snoop is the happiest dog in the world! He finally smiles again after all of what he had been through.
He's the true king of his new home. He eats, plays, frolics in the back yard, and lies on the sofa, which is his new favorite place.
"As soon as he came into the house for the first time, he jumped on the sofa and it was as though he decided that was the space for him! He loves to lie on the back of the sofa, and if I put the fire on, he will curl up in front of it," says Laurence.
After all the hardship, Snoop finally got what he always deserved – a loving home full of love and affection! And, we just can't be happier for him!