The perfect Halloween treat 
It's Halloween once again, and this year, everyone's getting involved — including a whole bunch of rescued wild animals.
The residents of Wildlife Friends Foundation Thailand (WFFT) recently got a spooky treat when they were given carved pumpkins to enjoy, each one a little different depending on the recipient. Monkeys, tigers, elephants and otters all got the chance to munch on a Halloween snack, and they all enjoyed them in different ways.
The vegetable-loving elephants were given whole pumpkins with no extra ingredients added, and they happily ate them in one go.
The rest of the animals had their pumpkins filled with their favorite treats for them to discover inside. Maruay, a Bengal tiger rescued from the Phuket Zoo last year, carefully lifted the lid off his pumpkin with his teeth to get to the treats inside. His friend Mee Mee, on the other hand, didn't hold back and destroyed the pumpkin to get to her treats instead.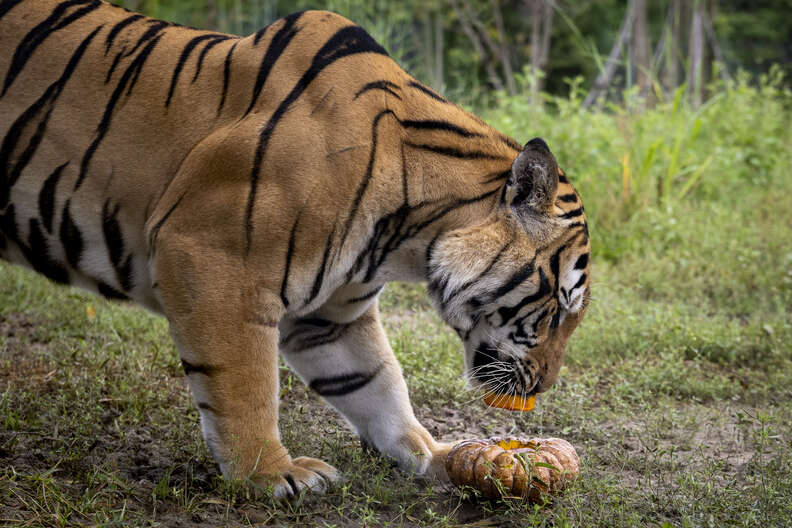 Pick and Nick, orphaned white-handed gibbons rescued from the illegal wildlife trade, were terrified of their pumpkin at first and took their time examining it to make sure it was actually safe to eat. Nu Deng, a long-tailed macaque rescued from the pet trade, had an entirely different approach — she scooped up the pumpkin and ran away with it, trying to keep it from her friends so she could have it all to herself.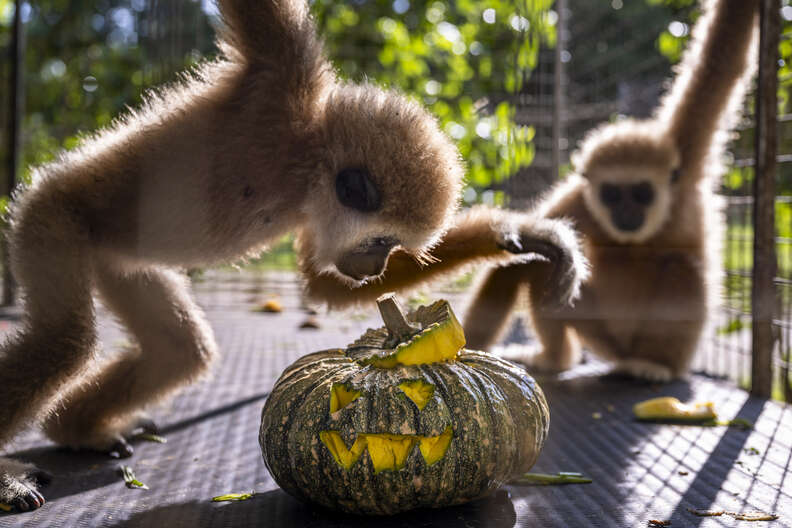 Ozzy and Julia, a pair of otters, had their pumpkin filled with fish and enjoyed snacking on it together immensely.
No matter how the animals chose to enjoy their pumpkins, it was all totally adorable, and the perfect way to celebrate the Halloween season.