Our furry friends are our family members, and we commit to love them and care for them for better or worse. They trust us to be there for them when they get older and when they need some extra care.
Hearing stories about senior pups who get abandoned saddens me deeply. They spend a lifetime with their family, and yet, they give them up.
Emma, a senior poodle, knows how it feels to be left and deprived of a family all of a sudden. She was left in front of a shelter, and she waited for somebody to take care of her.
Meeting Emma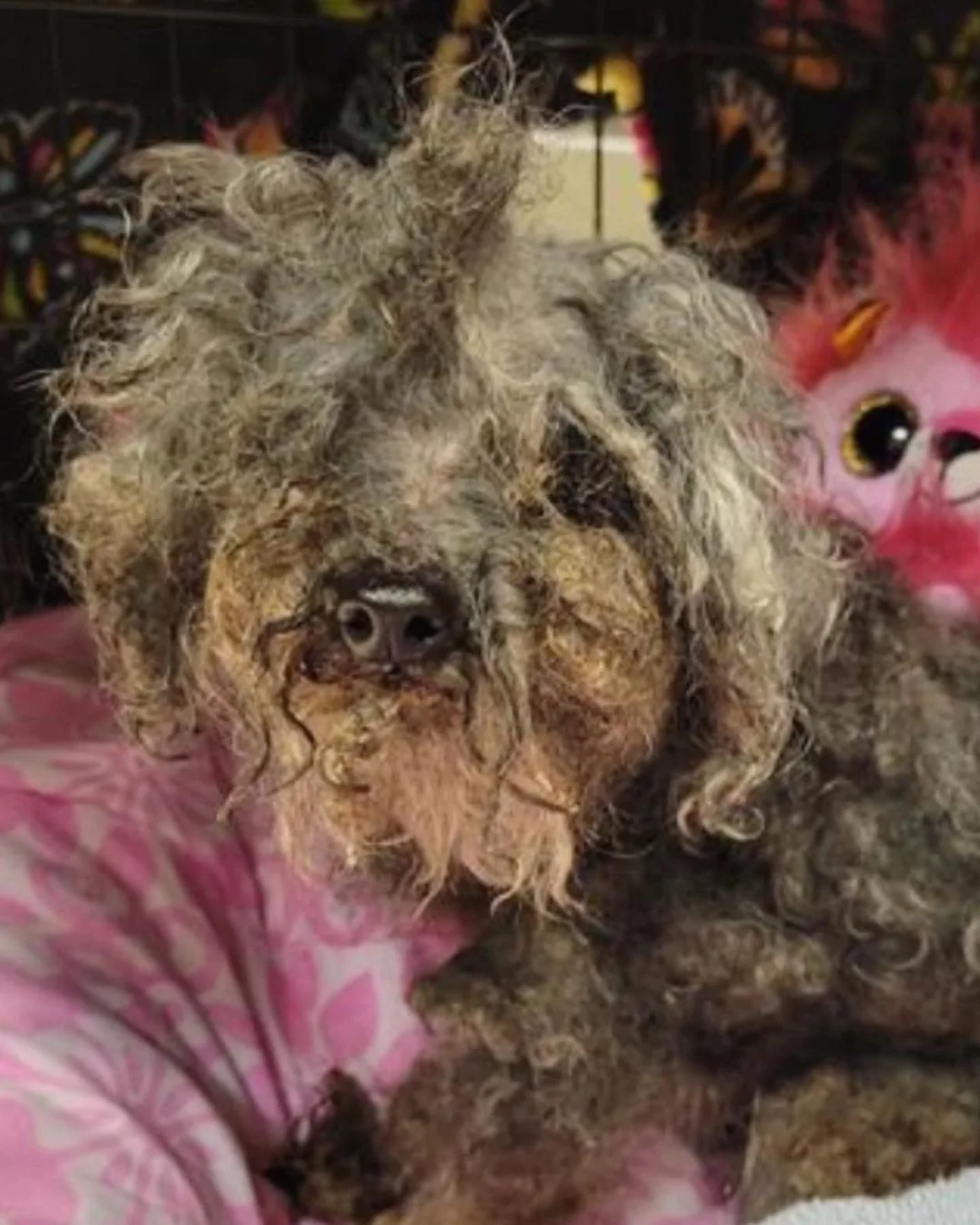 As soon as the shelter staff at Regional Animal Services of King County, located in Kent, Washington, opened the shelter door and saw Emma, they fell deeply in love with her. She was abandoned in a crate with blankets and a stuffed toy.
Emma was fearful and she was trembling. She was in bad condition. The poodle's fur was matted and she had dental issues.
The shelter staff members took excellent care of the pooch. They decided to win her trust and they made her feel safe. Emma was estimated to be 14 years old.
A few weeks later, a wonderful couple, Adrian and Spencer, were checking local shelters' pages trying to find senior dogs who were looking for a home.
When they saw Emma's photo, their hearts broke and they knew they had to do something for her. They decided to foster her.
In February of 2022, they went to the shelter to pick her up.
She Arrives At Her Foster Home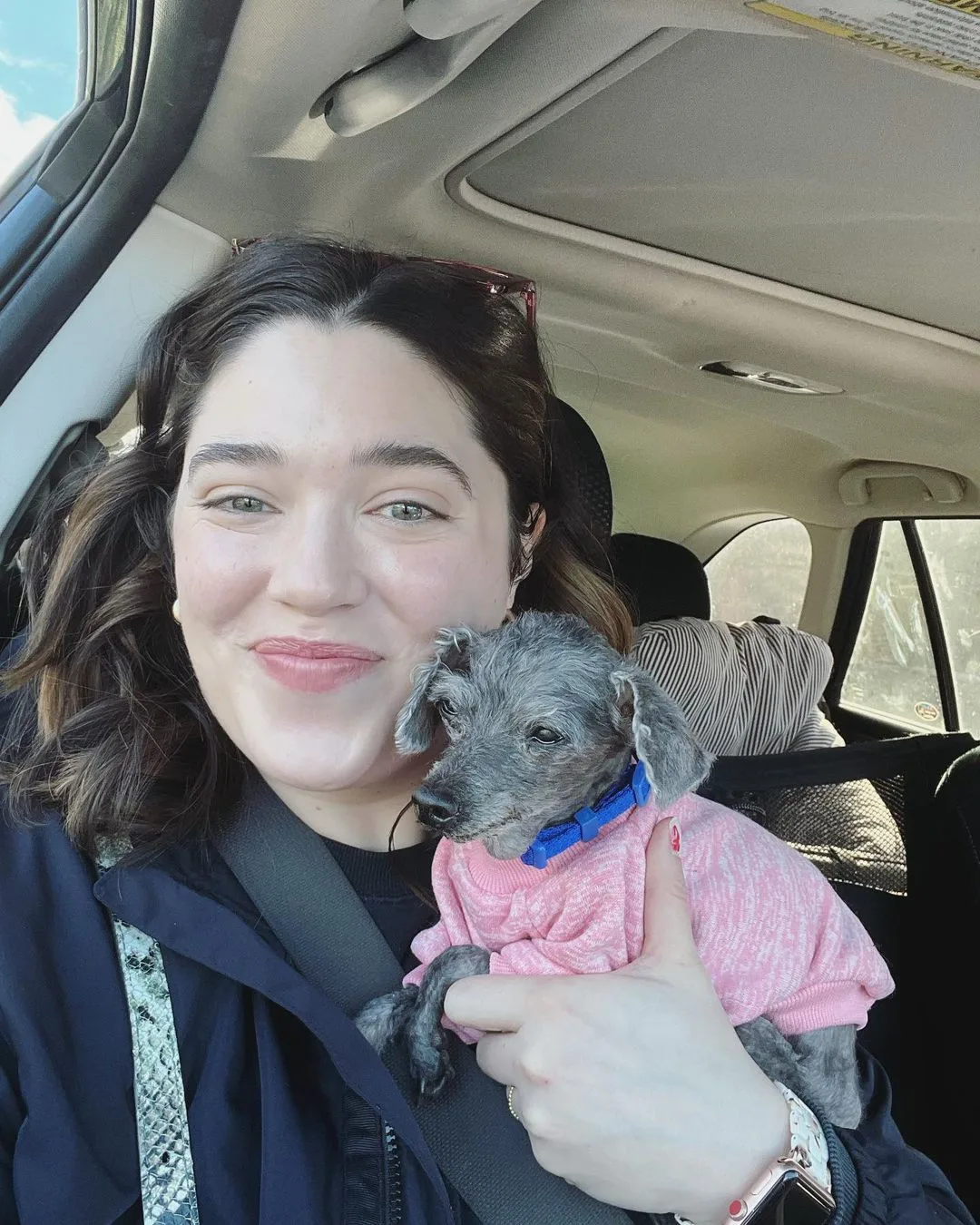 They were excited and happy that they would give a home to another senior doggo. Adrian and Spencer fostered many dogs, and they adopted four.
When Adrian took Emma in her arms for the first time, she noticed that the pup was shaking. The couple was overjoyed to welcome Emma into their home. Before they carried her into the house, her mom gently kissed her and said: "You're home. Yes, you are. We love you."
The adorable senior Poodle was also welcomed by the couple's other dogs, Eugene, Gus, Millie, and Teddy.
Emma's spine was a bit crooked, and she looked fragile. She walked slowly and her steps were insecure.
"She has this goofy little way that she walks. She may have spent a lot of time in her kennel before being left at the shelter," said Adrian.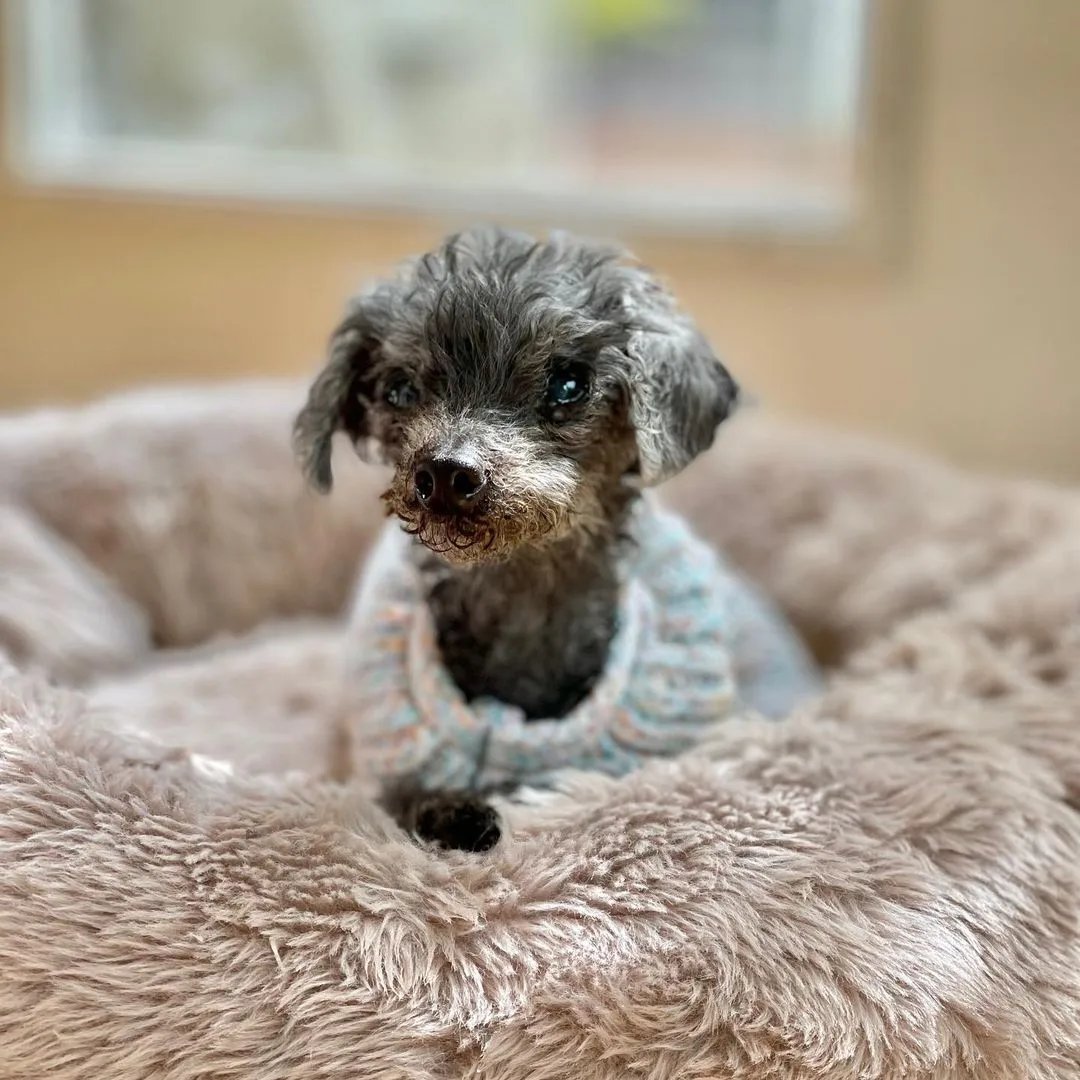 On her first day at her new home, she laid her head on her mom's lap. Adrian's heart melted because she knew that Emma trusted her.
Adrian and Spencer gave the pup all their love. They stroked her gently, telling her how much they loved her.
Emma was tentative at first, and Spencer hand-fed her for two weeks. As time went by, Emma became stronger and her spine straightened. She walked much faster than before.
Her Foster Family Falls In Love With Her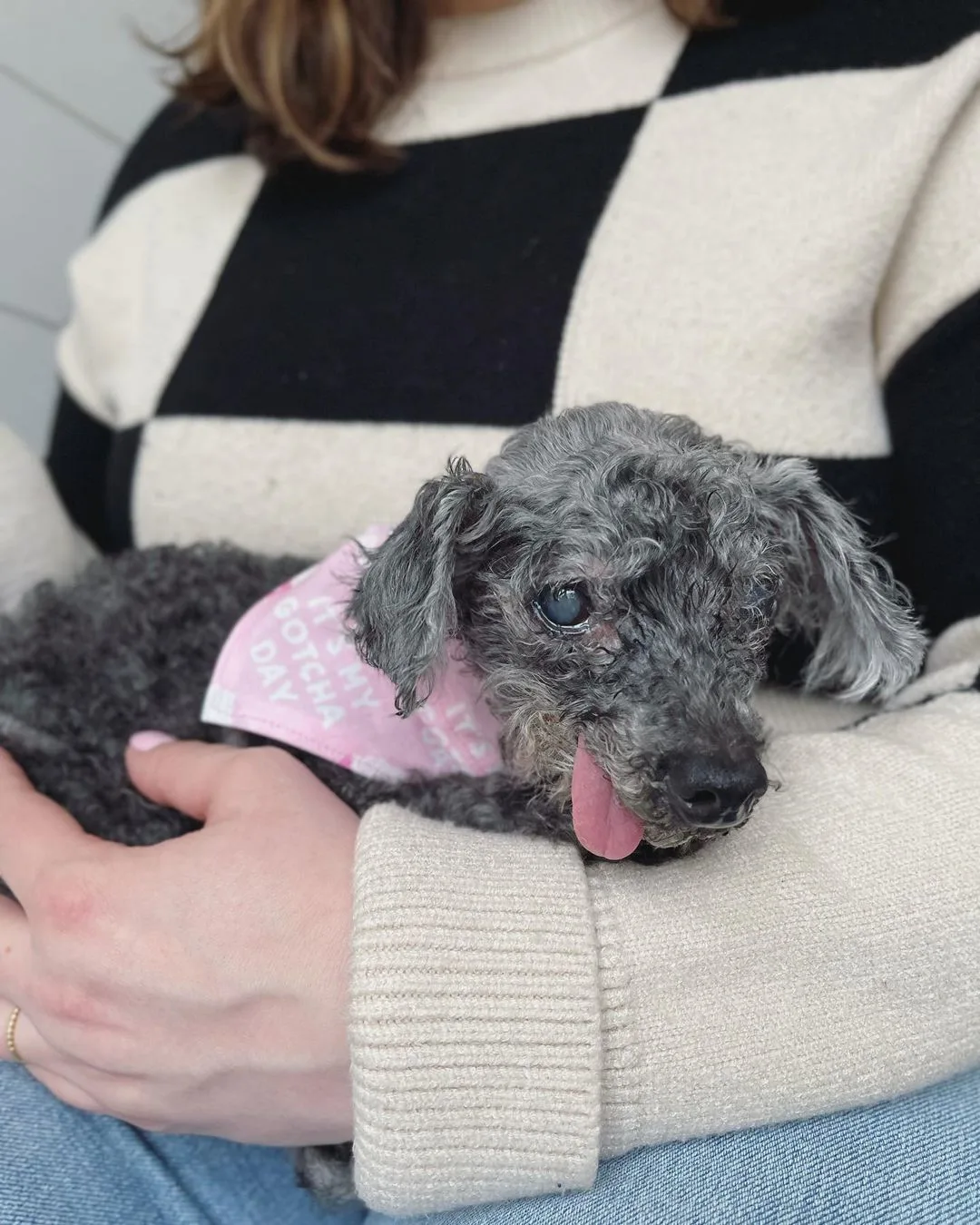 Her family was thrilled to see her flourish at their home. She had an adorable way of letting them know when she felt happy.
"When she is really comfortable, her little tongue hangs out the side of her mouth and that's how you know she's happy," Adrian said.
Emma liked walking around and hanging out with her furry siblings.
The couple loved their senior dogs immensely, and they enjoyed every moment they spent with them. 
Shortly after Emma arrived at their home, Adrian and Spencer decided to adopt her. They promised to love her forever and keep her safe.
"She's gonna be safe and happy with us for as long as she has. She's never gonna wonder if she's important again," Adrian said.
Emma's Happy Ending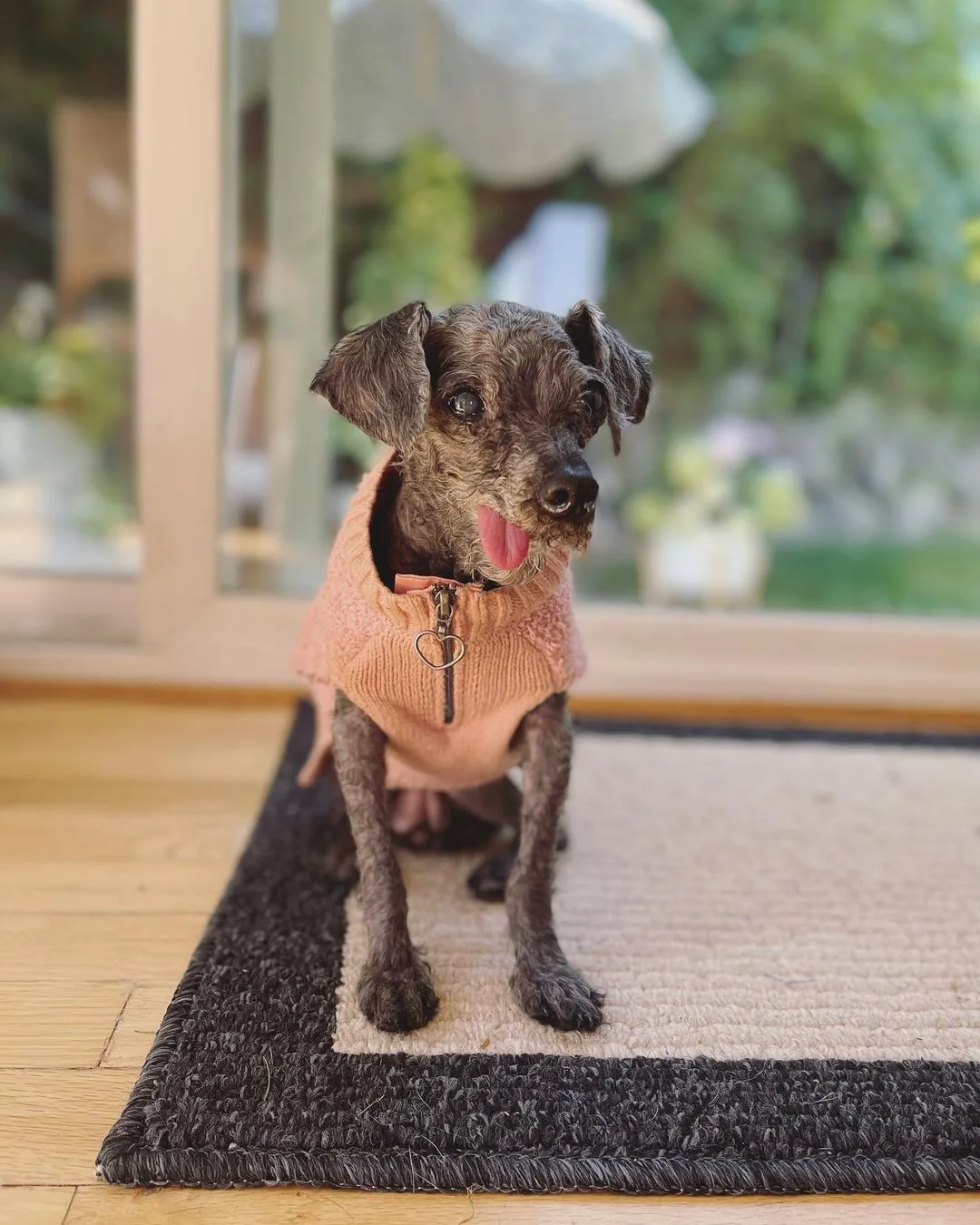 Thanks to the infinite love her family gave her, Emma is a completely different dog now. She is full of energy. The cute pup absolutely loves screaming while chasing her parents at home. Her mom says that's how they know that she is happy.
After she gets all the energy out of her system, she likes lying outside and sniffing the grass.
The adorable pooch enjoys living in her forever home in Seattle, Washington. You can follow the adventures of Emma and her four siblings on their Instagram account. 
Their family likes to let them explore nature, and they make sure they always have fun.
We're very happy to know that Emma lives her best life surrounded by her family who showers her with love. We hope that more people decide to foster and adopt senior dogs who are searching for a loving home.